A burlap rose goes perfectly with the sweater flowers.
Vintage buttons for the flower centers are attached with hot glue or thread.
I used hot glue to attach the flowers to a grapevine wreath that I picked up at a garage sale. The wreath just needed the old embellishments removed and it was ready for new life!

I'm linking up this week with Kindra.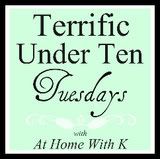 We may be getting some snow here today so a sweater wreath is perfect for the weather!